Best Flatbed Microwave Oven Reviews
A microwave is a vital kitchen appliance that will help you prepare your recipes effortlessly.
A flatbed microwave uses modern technology to optimize space and increase overall efficiency.
In the below review, we focus on flatbed microwaves and how to choose the best flatbed microwave for your kitchen.
What is a Flatbed Microwave?
---
The flatbed microwave uses modern technology to emit microwaves evenly through the food inside the microwave, without the need for a turntable.
Instead, it uses a spinning antenna on the bottom of the device to spread microwaves within the device.
Typically, this spinning antenna replaces the turntable in a traditional microwave oven. Among other benefits, it offers more space for dishes, making it ideal for large families.
In addition, it's simpler to clean and more efficient in cooking due to the turntable absence.
Flatbed microwave types include solo, combination, and grill. The Solo flatbed microwaves have limited functionality and generally provide the basics such as reheat, heat, and defrost options.
However, these basic functionalities will help you a great deal in the kitchen.
On the other hand, combination microwaves offer various functions that you can use such as, roasting, browning, and crisping.
In addition, a combination microwave can be 3-in-1 or 4-in-1. Typically, combination microwaves cost more than their Solo counterparts due to their versatility.
Finally, we have the less popular grill microwave oven.
Typically, grill microwaves work like the basic microwave ovens also called solo microwave, only that they have a grill function. If your goal is to use the flatbed for grilling purposes only, this type will suit you best.
The Advantage and Disadvantages

---
Increased Cooking Capacity: Since flatbed microwaves don't have a turntable, there's a bigger cooking space inside. The larger room also means it can hold dishes that would otherwise be messy in a turntable microwave of the same size.
More Evenly Cooked Food: A common benefit of the flatbed design over the turntable design is that they tend to heat and cook food more evenly. It means you don't have to worry about constantly reheating your food to eliminate the cold patches at the bottom of the pasta.
Easier to clean: Since a flatbed microwave oven does not have a turntable, cleaning up spills in the oven cavity is much easier.
Disadvantage: The only disadvantage is the price. Flatbed design microwaves tend to be more costly than turntable options due to the relatively new technology they use. However, the benefits you get from the flatbed models offset this downside.
Our Top Flatbed Microwave Reviews
---
1. Panasonic NN-CF87LBBPQ 3-in-1 Flatbed Combination Microwave Oven
Panasonic NN-CF87LBBPQ comes with three cooking functions and versatile settings, making it the perfect cooking companion.
Moreover, thanks to inverter technology, dishes cook up to 40% faster than the traditional methods.
In addition, it supports up to three functions at the same time for a better cooking experience.
Besides, it comes with nine preset Combi configurations, which you can choose. With a large volume of 31 liters and a flatbed design, there's more space to prepare meals for the whole family.
Moreover, it has an intelligent sensor that calculates the ideal heating time. Plus, you can enjoy easy cooking with 32 automatic programs, including Auto Cook, Chaos Defrost, Re-bake bread, Auto Reheating, and more.
Cleaning is straightforward from the start due to the clever integration of the grill into the cooking compartment. The oven interior features a stainless steel structure without a turntable. It weighs 20.32 kg and a power rating of 1000 watts.
Main features
Has a capacity of 31litres
It weighs 20.32 kg
It has a power rating of 1000W
Pros
It has auto settings making cooking effortless
It is effortless to clean
It has three shelf levels for simultaneous multi-layer cooking
 Cons
The inside is dark, and the  lighting is poor
Sometimes the toast dries before browning
2. Russell Hobbs RHFM2363B Digital Flatbed Black Solo Microwave
Russell Hobbs RHFM2363B features a flatbed design that fits various cookware shapes and sizes.
The diamond-shaped interior ensures even heat distribution so cooking food can be even on all sides.  Thanks to the auto-cook large selection of menus, you can prepare everything quickly and easily.
With a power rating of 800 watts and a capacity of 23 liters, it will handle all your heating and cooking needs.
In addition, it has automatic defrost settings, and you only enter the weight of the dishes, and the microwave will choose the ideal defrosting time.
Other features include a countdown timer and a handy digital clock.
It comes with a child safety lock to prevent children from opening the microwave door to enhance safety. It has an attractive mirror finish on the door and a sleek, modern design, making it suitable for various kitchen decor styles.
Main features
It has a power rating of 800W
It has a capacity of23 liters
It comes with automatic defrost settings
Pros
It's reliable and easier to clean
Most food is evenly heated and can fit in larger dishes
Easy to operate and can accommodate all shapes of dishes
Cons
Setting the timer is not straightforward
3. Panasonic NN-DS596BBPQ 4-in-1 Steam Flatbed Combination Oven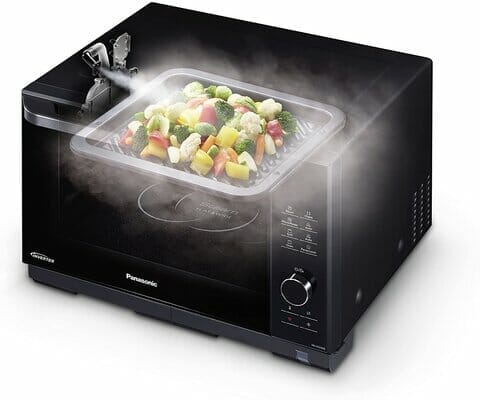 Panasonic NN-DS596BBPQ 4-in-1 comes with a variety of cooking options to meet your needs. With a 1000W power rating, it is possible to heat food faster, unlike other microwave ovens.
Besides, Panasonic NN-DS596BBPQ can reach a temperature of 220°C, allowing you to prepare various dishes.
You also have the option of steaming if you want to prepare moist food. There's also a quartz grill that gives you complete control of your dish when you're grilling.
The 27-liter capacity is big enough to fit in a family pot, making it suitable for larger meals and preparing Sunday roasts.
In addition, with two shelf levels inside, you can use multiple adjustable shelves for cooking simultaneously. Cooking is more effortless with the built-in sensor that automatically determines the optimal settings for each meal.
This feature allows you to prepare different dishes by entering the weight of the food without the need to adjust the power or time.
Main features
It can reach a temperature of 220 degrees Celsius
It has a capacity of 27-litres
It has a power rating of 1000W
Pros
It has a detailed manual that is easy to understand
Programming is easy, auto cook, steam, and roast is great
Cons
The outer surface becomes too hot to touch when in use
Its internal lighting is dim
4. Russell Hobbs RHFM2363S 23 L
The Russell Hobbs RHFM2363S microwave features an elegant design that fits perfectly in any kitchen interior.
In addition, it has an intelligent weight sensor that selects the ideal defrost time depending on the dish weight.
You have the option of choosing from eight automatic cooking programs and prepare even more of your favorite dishes with up to 800W of power.
For added convenience, the RHFM2363S comes with an intuitive cook menu that makes cooking effortless.
Furthermore, the diamond cavity structure ensures better microwave distribution, improving the reflection of the microwaves in the cavity.
For added safety, this microwave oven features a child safety lock. When the child safety lock is on, it locks the control button, ensuring the microwave remains inactive.
The volume of 23 liters is big enough for family meals and therefore ideal for extended family cooking. Thanks to the minimalist design, it can be placed almost anywhere or mounted on the wall.
Main features
It has an intelligent weight sensor
It has a power rating of 800W
It comes with eight automatic cooking programs
Pros
It's easier to clean as the interior surfaces are smooth
Its nicely packaged and large interior for larger plates
The manual is easy to understand
Cons
Sometimes the light bulb may stop working
Easy to breakdown if not well handled
5. Hotpoint Extra Space Flatbed Solo Microwave
This Hotpoint extra space product is easy to clean and use. It has nine automatic cooking settings for meat and fish dishes, ideal for beginners and cooks unfamiliar with that specific recipe.
In addition, it usually comes with preset recipes for a wide variety of meat and vegetarian dishes, allowing you to prepare these recipes without prior experience.
Besides, it uses flatbed technology, which gives it 26 liters of flat space, making it ideal for large families.
It has a power rating of 800 watts and can meet the kitchen needs of the whole family with lower electricity bills than the 4-in-1 Steam Combination flatbed.
Moreover, despite the weight of15kg and a capacity of 26 liters, it is compact and lightweight enough for wall mounting. Furthermore, the touchscreen control panel allows precise cooking time selection.
Main features
It comes with nine automatic cooking settings
It weighs 15 kg
It has a capacity of 26 liters
Pros
It heats food evenly
It's spacious for larger dishes, making it ideal for large families
It has a good design for easy cleaning
Cons
Sometimes the outer surface becomes too hot to touch
It doesn't support simultaneous cooking
6. Russell Hobbs RHFM2001B 19 Litre Flatbed Microwave
The Russell Hobbs RHFM2001B features flatbed technology that eliminates the need for a turntable and creates more space in the microwave.
It's ideal for large dishes and pans, and the flatbed surface is also easy to clean, easy to remove food particles and moisture.
In the Auto Cook menu, you can select dishes that take longer durations than preset cooking times. With automatic defrosting, it eliminates the hassle out of cooking.
This flatbed microwave detects the weight of the food and uses this information to select the optimal defrosting time for each dish.
With a power of 700 W, the RHFM2001B meets all your food preparation needs. The diamond cavity design improves microwave distribution by increasing the reflection of the waves in the cavity.
In turn, it allows the cooking of food more efficiently to save energy and time. Typically, it has the lowest power rating on our list, making it the best option if electricity bills are a concern.
Main features
It has a power rating of 700W
It has a 19-liter capacity
It comes with automatic defrosting settings
Pros
It's easy to clean and use
It has no noisy rotating discs and simple to slide plates on and off
Cooks evenly and has an accurate timer
Cons
Sometimes its light flickers and may ultimately go off
7. Sharp R861SLM 25 Litre Capacity Microwave Oven
Sharp R861SLM comes with 25 liters capacity, large enough for handling meals of the entire family. Sharp R861SLM has a flatbed design that optimizes space, unlike a traditional turntable, which limits the microwave space.
It comes with 25 liters capacity, large enough for handling meals of the entire family. There are no knobs or buttons on the outside, making cleaning easier.
In addition, it has a built-in grill that is a valuable addition to your kitchen. Whether you're making a quick barbeque cheese snack or preparing chicken, beef, or fish, it delivers consistent cooking results with minimal effort.
It comes with a dropdown glass door, stainless steel frame, touch control panel, and LCD, giving your kitchen a premium and modern style.
Thanks to the minimalist design, you can mount it on the wall if kitchen space is limited. In addition, it comes with a power rating of 900W, enough to meet all your kitchen needs.
Main features
It has a power rating of 900W
It comes with 25 liters capacity
It has a built-in grill
Pros
It's easy to clean
The pull-down door and its plates are well fixed
The design and construction makes your kitchen stylish
Cons
It's generally noisy
It has no detailed manual, making it hard to operate
Features to Consider when Choosing a Flatbed Microwave Oven
---
Although choosing a flatbed microwave isn't straightforward, the below tips will help you identify the right one.
Energy consumption: Most flatbed microwaves have a power setting, and the higher the voltage, the more efficient and faster it is. If you're preparing large amounts of food, consider choosing a more efficient microwave. If you're only cooking for one or two people, you can opt for a lower voltage option.
Auto Cook: If you want to make cooking effortless, you need a microwave with an automatic cooking option. With this type of microwave, you don't have to adjust the time and power settings; you have to click on the kind of dish, and that's it. Keep in mind that some flatbed microwaves don't have this function.
Defrost: Defrost is a microwave function that specializes in heating frozen food. You may need to check whether the microwave features this option.
Child Lock: If you have kids at home, accidents can happen if they put their hands in the microwave. Therefore, choose a flatbed microwave that has a parental control function. Typically, this child safety uses a code such as a password.
Preheat: Before starting to cook and following the recipes, the oven must be at a specific temperature. Therefore, it is necessary to turn on the microwave and wait a few moments until it is hot or reaches the desired temperature. This process is known as preheating. A flatbed microwave with this feature as an option in the menus is better.
Auto Cook Menu: The flatbed microwaves featuring the Auto Cook function make cooking effortless. However, when cooking in a microwave, you must set some parameters such as power and cooking time, which for beginners can be difficult.
Also, the auto-cook menu function is ideal for microwave recipes that you don't understand well. With the automatic cooking menu, however, you only have to set the type of dish to cook according to the weight of the food, and the microwave automatically adjusts the time and power.
Timer: With the timer, you can set the duration of microwave operation from 30 seconds to around 10 minutes. The control panels are in three types: Tact Dial Type, Feather Touch, and Mechanical Dial.
The mechanical dial is generally available on low-end models and can withstand heavy use. The Feather Touch recognizes your fingers as a touchscreen phone. Depending on the panel type, you can adjust the cooking time using the button or the LCD touch screen.
Microwave Accessories: Some flatbed microwave models come with a variety of microwave accessories. They may include microwave-safe cookware, vessels, bowls, utensils, and microwave oven stand. Also, some models may consist of a microwave lid that helps cover the microwave when it is not in use. If there is no enough space, you can use the microwave mount to mount it on the kitchen wall.
FAQs
Which Flatbed Microwave is best?
Considering the capacity, power rating for heating speed, and the number of automatic cooking programs, Panasonic NN-DS596BBPQ 4-in-1 Steam Flatbed Combination Oven is the best.
Do Flatbed Microwaves Heat Evenly?
The flatbed microwave uses modern technology that helps distribute the heat evenly without a turntable, allowing more space for cooking.
Does it Matter If the Microwave Doesn't spin?
If the turntable doesn't spin, food will not cook evenly and have cold and hot spots. However, failure to spin causes no damage to the microwave.
Flatbed Microwaves vs. Turntable Microwaves
The turntable microwave utilizes the turntable on a bottom of a device to allow microwaves to spread evenly through the internal ingredients. The flatbed microwave uses modern technology to distribute microwaves evenly through the food inside a microwave, without a need for a turntable.
Conclusion
Equipping your kitchen with a flatbed microwave will not only increase the amount of dish you prepare at a time but also reduce your electricity bills due to its improved efficiency. Although choosing the best flatbed microwave is challenging, you can't go wrong with any of the above options.
Related Posts: