Best Small Caravan Microwave for Camping
If you are looking for a caravan microwave, this article is for you.
Caravanning is a great way to relax and enjoy the freedom of the open road.
There are many benefits from caravanning, but one thing that trips up some people is cooking for themselves while on the go.
Luckily, there are microwaves designed specifically for your caravan or motorhome available in the market.
This blog post will provide you with reviews our 10 different small microwaves that work in caravans and motorhomes!
We'll discuss their qualities as well as which features make them best suited for caravans or motorhomes.
This blog post should give you enough information to find the perfect microwave for your needs so you can have easy access to home cooked meals while travelling!
The first product we're going..
Our Top Pick of 2022
Our 10

Best

Ovens For Caravans
You might find it tough choose a suitable model because such an appliance should be compact and energy-efficient.
We are here to make things easy for you. Below a collection of our best small camping microwave ovens for the caravan that can transform the way you enjoy the meals and drinks on a camping trip.
---
1. Igenix Kettle and Microwave – Camping Pack

Power: 500 W
Capacity: 14 litres
As mentioned above, this is our top pick of 2022
It combines a microwave oven and a travel kettle. If camping is one of your weekend plans, then the Igenix kettle & microwave might be an ideal investment.
This low wattage convection microwave oven has a cooking power of 500 watts. So, you can use it after connecting with a 6-amp electrical outlet.
The oven has compact dimensions and a white enamel finish that makes it attractive. In case you want to operate the oven from an inverter, then its recommended that you use a 12 or 24 Volt model with a power of 1500 Watts.
An included kettle has a power of 1000Watts. You can use the electric kettle to boil eggs, hot beverages, heat milk and also cook rice. If you want to enjoy a healthy diet even outdoors, then this affordable camping package is worth your attention.
2. Daewoo KOR6M17R

Small Camping Microwave



Power: 700 Watt
Capacity: 20 litres
Daewoo manual control microwave is perfect when you need a bowl of soup or popcorn on weekend trips. It has a capacity of 20 litres, which allows you to prepare a wide range of food items and snacks.
The campervan microwave has 7 power levels of cooking settings that are helpful to reheat, cook or defrost many dishes.
A defrost function is the most useful among all, because it quickly thaws what you want to eat. Such a function is suitable when you need to reheat something that's stored in the freezer for a long.
Daewoo KOR6M17R utilizes concave reflex technology, which removes cold and uncooked areas from your eatables so that you can enjoy thoroughly cooked meals even when outdoors. Apart from that, the oven has two control dials that give 35 minutes of a cooking timer and are very easy to use.
3. Russell Hobbs RHM1401S Silver Manual Microwave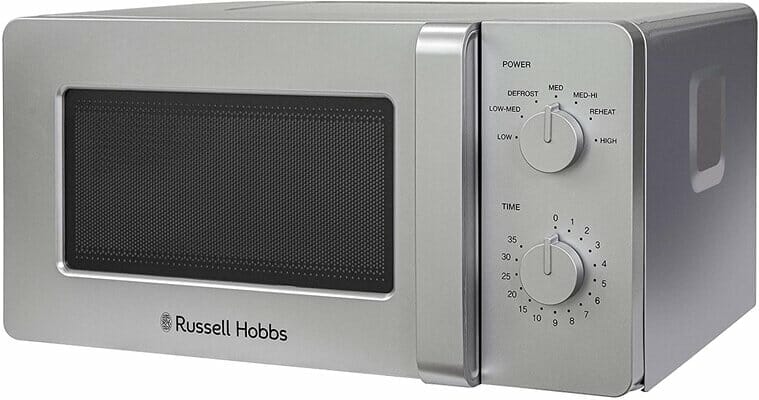 Power: 600 W
Capacity: 14 litres
Russell Hobbs RHM1401S is an ideal investment if you own a caravan or campervan. This 14-litre oven can cook or reheat anything within a few minutes. It has a stylish appearance that looks great in your vehicle as well as a home kitchen.
RHM1401S boasts a power of 600W, which means it can quickly cook anything that you want to enjoy on a picnic or home.
This model has six power levels so that you can choose suitable temperatures according to the recipe. It's easy to use and has an alarm function that lets you know that the meal is ready to be served.
This small microwave oven has a defrost setting that adds to your convenience. Due to such features, you can cook anything that's kept in the freezer for a long time. What's more? You can easily clean the unit using a damp cloth to maintain its performance.
4. COMFEE' Microwave Oven with 5 Cooking Power Levels – CM-M202GSF
Power: 700 W
Capacity: 20 litre
COMFEE' CM-M202GSF comes in a unique retro look that adds style to your caravan. It has a microwaving power of 800 W and 5 power levels. The oven has 8 cooking presets that allows you to prepare some of the healthiest and tasty meals including soups, pasta, poached eggs and much more.
Due to multiple temperature levels, you can deal with most of the eatables without any trouble. It has a 35-minute kitchen timer and an internal light that allows you to check the dish. Moreover, the oven has an express-cook button that starts working with a single touch and acts as a time saver when you are in hurry.
You may also be interested in the Best mini camping ovens UK.
The camping microwave oven has a capacity of 20 litres, which is sufficient for soup bowls, plates, and all other small and medium-sized crockery. Due to a stylish appearance, the appliance also adds some stylish to your road trips.
5. MSC 320W Low Power Caravan Microwave
Power: 320 W
Capacity: 20 litres
The MSC low power oven is our 5th recommendation for caravans, camper vans, and campsites. But, do you know why it stands on the top of our recommendations?
Because this oven is manufactured to reduce the working power to 320 watts.
What's the major problem with a generator? Its offers "dirty" power that includes surges, which might be hard on electronic items.
But, his is not the case with the MSC rig, because it has a soft start circuit that keeps the surges at bay. Apart from that, it has a compact construction and a stylish white enamel finish.
Keep in mind that the MSC oven needs 240 Volts and an electrical supply of 5 amps. It comes with a 3-pin plug. Apart from that, the oven is easy to use and has enough capacity to add more smiles to your road trip.
6. Russell Hobbs RHRETMD706C Digital Solo Microwave
Power: 700 W
Capacity: 17 litres
What do you enjoy the most? Is it lasagna? Or you might prefer minced beef over a weekend escape. Its where you can utilize the digital RHRETMD706C. With its 5 power levels and a defrost function, you can enjoy lasagna within few minutes. Moreover, the digital basic/solo microwave is compact and hence, it's great for a caravan.
The retro-themed Russell Hobbs RHRETMD706C is available in three shades. This solo microwave is a multipurpose cooking appliance that offers easy usage but doesn't take much space on the caravan shelf.
Apart from outdoor usage, the RHRETMD706C is also perfect for homes wherein the cooking area is compact. It has a chrome dial and handles that match with other kitchen appliances.
7. SIA MTM20WH 20L Freestanding Microwave For Camping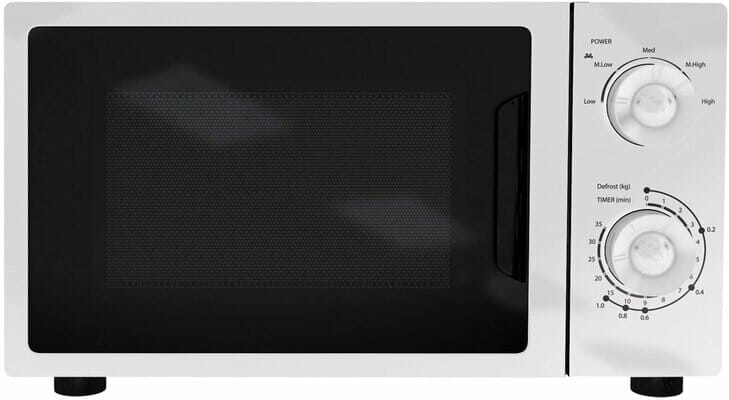 Power: 700W
Capacity: 20 litres
SIA is a reputable brand among kitchen appliances because most of its products are highly functional and stylish. Rare mix, isn't it? The SIA MTM20WH is a freestanding microwave that also belongs to the same lot.
The 20-litre oven has an output of 700W and its available in an attractive white shade that looks great in a caravan.
Finished in black, the high-quality cooking appliance adds a sophisticated and modern look to your moving home.
It has 5 levels of power control that allows you to cook or reheat anything anywhere. So, not only outdoors, but SIA MTM20WH is also suitable for the kitchen where you don't have much open space.
A defrost setting adds to your convenience. Plus, there is an alarm that lets you know that it's time to enjoy something tasty. The oven is easy to use and hence, but lacks any display.
8. Cookology Retro Microwave in Cream RETMA20LCR
Power: 700 W
Capacity: 20 litres
Cookology is one of the fastest-growing kitchen appliance brands in the UK. The RETMA20LCR is one of the best microwaves for motorhomes.
It has a 20-litre capacity and a generous 25cm turntable that allows you to fit all types of plates. This means it might be a perfect investment if you enjoy family trips over the weekends.
RETMA20LCR is a high quality, stylish and functional retro microwave that' available at a budget-friendly price tag. Due to a white appearance, the oven fits any of the caravans or home kitchens. Then, a black glass door and chrome handle add to its elegance.
The Cookology oven gives you a couple of knobs to facilitate easy usage without following complicated instructions. It has five temperature levels, a 35-minute timer and defrosts setting for your convenience.
9. Daewoo QT3R Compact Manual Microwave Oven For Camping

Power: 600 W
Capacity: 14 litres
If you need a motorhome microwave that can quickly reheat or cook your meal, then try the stylish 14-litre compact manual microwave from Daewoo.
Its space-saving design ensures you don't have to compromise much on the open space. Apart from outdoor trips, QT3R is also suitable for small kitchens.
Daewoo QT3R gives you a choice of seven temperature levels, which is helpful to prepare a variety of soups and other meals. Its 35-minute timer takes care of the cooking time. The oven also has a defrost function that's helpful when you want to cook raw items directly from the freezer.
This oven has a 600 W output for quick and efficient cooking. Moreover, its dual wave technology never leaves cold or uncooked areas. The appliance has a spacious capacity of 14 litres that is perfect for single users or a small family.
10. Geepas 20L Microwave Oven – 700W Solo Microwave Oven
Power: 700 W
Capacity: 20 litres
Geepas oven is stylish and offers fast as well as easy cooking on the move. It's compact, but has a capacity of 20 litres that's perfect for dinner plates and soup bowls. This appliance has a stainless steel interior that promotes even heat distribution and prevents rusting.
The oven has a defrost setting that allows you to cook raw food items directly from the freezer. In other words, it can handle all your defrosting, reheating and cooking needs.
This small microwave for caravan has 5 power levels, which allows cooking delicious meals within a few minutes.
When on the riverside, you can enjoy fishes including salmon. If you are going on a road trip, then there are many other items that you might like on the move.
It can be pasta, soup, some chicken or pizza. No matter what you want to eat, the Geepas model has the power to reheat or prepare anything at your command. If you want to take care of your nutrition even on leaves, then it's one of the best microwaves for your caravan.
Frequently Asked Questions

---
Now you know some of the best caravan microwaves. In this section, we will talk about some of the factors that you can consider to make a suitable purchase.
Do I Need a Microwave in My Caravan?
Microwave ovens are one of the fastest ways to reheat food items like soup and baked beans.
Scrambled eggs and grilled fish are the other items that are easy to cook on such an appliance. You cannot ignore the defrost function, which allows you to defrost any food items.
You will find multiple food items that come pouch packed and can be only cooked in a microwave. Such packed items are useful when you are on holidays.
In other words, an oven is an easy way to enjoy delicious and healthy food on the move.
What is the Power Output I Need?
An average microwave consumes approx. 1200 watts of power, which is similar to a kettle, toaster or hairdryer. However, you cannot use such a powerful appliance inside a motorhome.
Such ovens need an even higher power in the first few milliseconds after you power it on, which might not be available on a campsite, especially when you are travelling abroad.
The best idea is to choose an option that takes 500 to 700 watts to operate. Such microwaves work at any of the campsites in the UK.
All the spots here have a 10 or 16 Amp electrical outlet. However, it might take a long time to reheat your food with a low watt oven. So, it's recommended that you stir or regulate the food items regularly.
What if I am a Wild Camper?
In case you want to spend more time deep into the woods, instead of staying at the campsites then investing in low wattage microwave is beneficial. Make sure the caravan has sufficient battery power to withstand a microwave.
What About the Footprint?
Microwaves ovens are available in different size or dimensions. We recommend that you look for compact and lightweight models that can accommodate all your travelling plates and bowls.
Every motorhome has a maximum weight capacity and hence, there no point putting extra pressure on its engine. Apart from that, measure the space where you will place the oven and find something that can fit.
How Many Capacities Do I Need?
Most of the options we discussed today fall from 14 to 20 litres. However, you can find models with a maximum capacity of up to 35 litres. You are low on open space inside a caravan. So, it's recommended that you select a small oven that can do the needful.
Try to find a compact microwave with a large turntable. If you regularly travel in the motorhome with your family, then look for significant turntable and capacity. In case, you are a lone wanderer or you generally drive with your partner, then a small oven will do the trick.
You May Also be Interested in: Best Portable Washing Machine For Caravan
Which one should I buy: digital or manual?
Digital microwaves are better in terms of showing accurate timing and also has multiple pre-set functions for convenient usage.
However, you need to reset the timer every time you unplug and re-plug the microwave. Apart from that, there are no other differences between these two categories.
So, you can try any of them depending upon your requirements. Here you can read on How to choose the best microwave oven for your motorhome?

Other Things To Consider

---
Look for a microwave with high quality built that can easily tackle movement and minor bumps.
If you are retrofitting the appliance in the caravan, then attach it with a cradle that can offer protection from jerks and vibrations. Make sure there is some space on all its sides for proper ventilation.
There are some additional functions in an oven that can make your cooking process easy as well as convenient. Some of them include pre-set cooking programs and defrost. Autocook is another helpful feature that lets you know about the power and cooking time. Simply enter the weight if an item that you want to prepare and bingo; the microwave shows you the required temperature and how much time it will take to finish the cooking process.
Is there any 12V Portable Microwave for a Caravan?
You can find many 12V portable microwaves to be used with a caravan. However, such an appliance can deplete the caravan battery quickly. So, 12v microwave might not be beneficial for regular usage.
Can You use any Microwave in a Caravan?
No. You need to choose a low wattage convection oven that should not consume more than 700Watts to operate. Only then you will be able to use such an appliance using a 10 or 16-amp electrical outlet on a campsite.
Summary
Today, we discussed some top-notch caravan microwaves that are suitable for most of the UK campsites. We recommend that you choose a model within a wattage barrier of 700 watts. It might be tempting to use a powerful appliance on the move, but it will simply overload and break the circuit.
MSC 320-watt low power caravan microwave is the best you can try. You cannot go wrong with other models as well. So, choose any of the above mentions options and share the experience below.