Microwaves exist among us since 1947, but they have changed a lot. These appliances used to be very large and heavy.
But, things are changed. All thanks to technology, giant microwaves are a thing of the past.
Now, we have compact corner microwaves available that consume minimal space on your countertop.
Is there such thing as a corner microwave?
Corner microwaves are available with a curved design, which helps you save a lot of space on your countertop. The rounded back of these kitchen appliances fits into any of the kitchen corners. So, such instruments are ideal for compact kitchens. If you want to try one, then take a look at some of the best corner microwaves available.
Best Corner Microwave Ovens

---
1. Hotpoint MWH 1331 B Corner Solo Microwave
The MWH 1331 B is a compact solo microwave that comes with some essential functions. So, you will not find grill or oven buttons in this model. Its usage is straightforward, select the heating duration and press start.
This compact kitchen appliance has a decent capacity of 13 liters. It's a compact instrument with a curved back, which is helpful if you own a small kitchen. The MWH 1331 is also suitable if your countertop is small.
Hotpoint MWH 1331 B has five power levels, and it offers to defrost function via two methods; by weight or time. You can save one program using its Memo button. Plus, the microwave also comes with a kitchen timer, clock, and safety lock for kids.
2. Hotpoint MWH1331FW Solo Corner Microwave (Curve Design)

MWH1331FW is another compact solo microwave that can fit easily in any of the corners of your kitchen countertop. It uses MultiWave Technology, which transmits microwaves from two points making sure you can enjoy an evenly cooked or reheated meal. The kitchen appliance comes with a digital display, which is helpful if you are preparing meals.
Hotpoint MWH1331FW works at 700W, and it has five different power levels to choose from. The capacity of this appliance is 13 liters. It comes with a 28 cm turntable, which can accommodate all your average-sized plates.
The solo microwave has Automatic Functions, including defrosting programs for bread, fish, poultry, and meat. You can easily control it and adjust the durations using touch control. Above all, this house instrument is easy and less-time taking to clean.
3. Whirlpool Max 25 13 liters 750-watt Solo Corner Microwave
Available in white, the Whirlpool Max 25 comes with a curved back like the Hotpoint microwaves we described above. So, you can push it into any of the corners to save some space on the countertop. A regular microwave takes a lot of space, but this model has a compact design that makes it ideal for small kitchens.
Whirlpool Max 25 has a capacity of 13 liters, which is sufficient for bachelors and even small families. Plus, it has a 28 cm turntable that can accommodate most of the dishes or plates. Apart from that, the microwave's controls are placed on its top for easy access.
Also read: Built in Combination Microwave Ovens Reviews
This curve microwave has seven power levels, wherein the maximum is 750W. It uses a 3D distribution system, which cooks well and offers even reheating without any cold patches. Plus, this system defrosts seven times faster than traditional microwaves.
4. Whirlpool Curve Microwave Max 38 with Grill and Crisp Function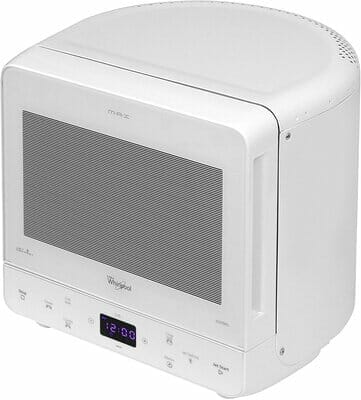 Whirlpool microwave Max 38 comes with a rounded back, which fits comfortably into small spaces. So, it's a perfect appliance if you own a tight kitchen countertop.
This microwave has a 28 cm turntable. So, it appears small, but you don't have to compromise much on plate sizes.
Max 28 microwave has an integrated handle on its door. Its touch screen controls are easy to use. Plus, this appliance is easy to clean.
This grill and crisp microwave uses 3D distribution technology for fast and even cooking results.
So, you can cook, reheat, steam, or defrost without wasting much time and effort. Plus, the technology makes this appliance more efficient.
Buying Tips
---
This section will outline some of the points that you should consider while looking for a corner curve microwave.
Power: You can measure the maximum capacity of a microwave in Watts. And it's clear to understand that high wattage means an appliance can cook faster. However, you might not use the maximum power for all the beverages and dishes. So, look for a corner microwave that has a variety of power levels to use. For instance, Hotpoint MWH 1331 B comes with five levels.
Also read: Microwave Oven Vs Conventional Oven
Capacity: The interior volume of a microwave is described as its capacity. It means how much food you can place inside the appliance. The total is generally measured in litres. For instance, Hotpoint MWH 1331 B is available with a capacity of 13 litres. Check this factor before choosing a curve microwave for your kitchen.
Uniform cooking: Check whether a corner microwave can reheat or cook your meal uniformly. So that you don't have to deal with cold patches; for example, Hotpoint MWH1331FW releases microwaves from two different points. Similarly, Whirlpool Max 25 uses 3D distribution that evenly reheats, cook and defrosts your eatables.
Child lock: A microwave with lockout functionality stops kids to access its control or opening the door while you are cooking or reheating something. So, choose a model with a child lock, especially if you have some small ones around.
Other features: Pre-programmed functions helps you to reheat, defrost and cook food items without any hassles. Press a button, and the task will be completed. For instance, Hotpoint MWH1331FW has an automatic control for defrosting seafood, meat and other items.
Similarly, Hotpoint MWH 1331 B has a memo button that can remember one of the programs that you want to use frequently. In other words, choose something that can make your kitchen time easy and efficient.
Bottom line
Now you know about some of the best corner microwaves that are available in the UK market. After seeing some different options, you can get an idea of what to expect from these mini kitchen appliances. Check all the four alternatives and choose what suits your kitchen. In case of any confusion, you can refer to the buying guide.