When it comes to keeping the sun and weather out of your home, an awning is one of the best investments you can make. Not only does an awning provide shade and shelter from the elements, but it can also improve your home's curb appeal.
But what is an awning, exactly? What should you look for before you buy one? And what are the benefits of having one installed in your home? Keep reading to find out.
What Is An Awning?
An awning is a type of cover or shade that is typically made from fabric and is attached to the exterior of a building.
Awnings can be used over doors, windows, or patios, and they are often retractable so that they can be easily opened and closed as needed. Awnings are available in various colours, styles, and materials to suit any home's needs.
What To Look For Before You Buy An Awning?
When you're shopping for an awning, there are a few things you should keep in mind. First, consider what you want the awning to achieve. Are you looking for something to provide shade on a hot day?
Or do you need something that will protect your patio furniture from the rain? Once you know what you need the awning for, you can narrow down your choices.
Next, take measurements of the area where you want to install the awning. This will help you determine what size and style of the awning will work best for your home.
Then, consider your budget and what type of material you'd prefer. Awnings are available in both cloth and metal, so choose the option that best suits your needs and budget.
Read more: Bosch Series 2 HMT75G451B Freestanding Microwave Review
What Are The Benefits Of Having An Awning?
Now you know what is an awning, let's move on to the benefits. Awnings are often thought of as strictly for commercial purposes, providing shelter for customers as they enter a business. However, awnings can also be a great addition to your home.
Residential awnings offer many benefits, from energy savings to protection from the elements. If you're considering an awning for your home, here are some of the top benefits to keep in mind.
Save Energy
In the summertime, an awning can keep your home cooler by shading windows and doors from direct sunlight. This can help reduce your reliance on air conditioning, which not only saves energy but can also lower your monthly utility bills.
In the wintertime, an awning can provide extra insulation for your windows and doors, helping to keep heat in and cold out.
Protect Your Home's Exterior
An awning can also help protect your home's exterior from weather damage. By shading windows and doors, an awning can prevent fading and sun damage to your paint or siding.
In addition, an awning can protect from rain and snow, helping to prevent water damage to your home's exterior.
Provide Extra Outdoor Living Space
An awning can create additional outdoor living space for your family. By shading your patio or deck, an awning can make it more comfortable to spend time outdoors, even on hot summer days.
An awning can also protect from bugs, making it possible to enjoy time outdoors without worrying about mosquito bites.
How To Choose The Right Awning 
The first thing you'll need to consider is what material you want your awning to be made from. There are several different options available, each with its own set of benefits and drawbacks.
For example, fabric awnings are typically less expensive than metal or vinyl awnings, but they also require more maintenance and can be damaged by high winds. Metal or vinyl awnings are more durable and require less upkeep, but they're also more expensive upfront.
Another important consideration is the size of the awning. Be sure to measure the area where you plan to install the awning before you shop so you know what size you need.
You'll also need to decide how far out from the side of your house you want the awning to extend. This will depend on how much shade you want it to provide.
Finally, think about any special features you might want your awning to have. Some awnings come with built-in lighting or storage pockets that can be handy. Others have solar panels that can help power outdoor lights or electric appliances.
There are even retractable awnings that can be pulled out when needed and stored away when they're not in use.
Learn more: Motorhome Cooking Equipment & Appliances Ideas
Awning Installation: Step-By-Step Guide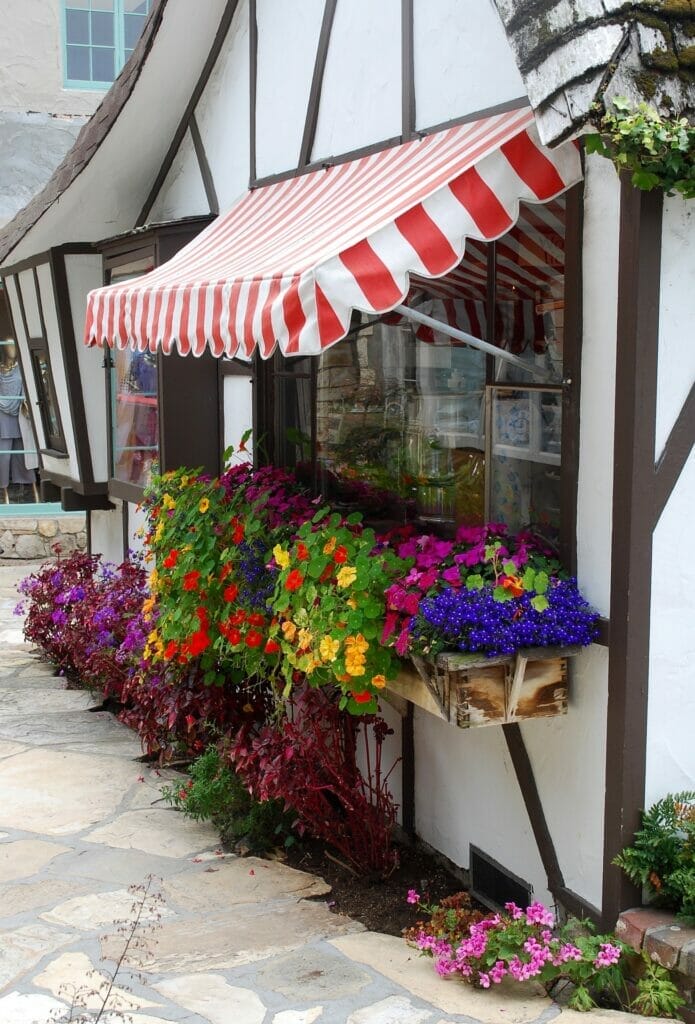 Schedule an on-site consultation. A professional awning installer will need to take some measurements and assess the best location for your awning. They'll also be able to answer any questions you have about the process and help you choose the right type of awning for your needs.
Prepare the site. Once you've decided on the location for your awning, it's time to prepare the site. This usually involves removing any existing siding or trim and installing new flashing around the perimeter of the opening where the awning will be installed.
Install the brackets. The next step is to install the brackets that will support your awning. This is usually done by drilling into the fascia board or attaching them to masonry with expansion bolts.
Hang the awning fabric. Once the brackets are in place, it's time to hang the awning fabric. This is done by threading one end of the fabric through the front bar of the awning frame and then attaching it to the back bar with snaps, Velcro, or zip ties.
Install any additional features. Some awnings come with additional features like lights or wind sensors. Following the manufacturer's instructions can usually install these at this stage.
Test everything out and enjoy! Once everything is in place, it's time to test out your new awning and enjoy all those sunny days.
Keep Your Awning In Tip-Top Shape With These Tips
Like any piece of equipment, an awning requires regular maintenance and care to stay in good condition. Here are some tips for keeping your awning in tip-top shape.
Inspect Your Awning Regularly
It's important to inspect your awning regularly for signs of wear and tear. Look for loose seams, holes, or other damage. If you notice any damage, make sure to repair it promptly.
Clean Your Awning Regularly
It would help if you also cleaned your awning regularly. Remove debris such as leaves or twigs that may have blown onto the awning. You can also use a hose to rinse off the awning if it's particularly dirty. Just be sure not to use too much pressure, as this could damage the fabric.
Retract Your Awning During High Winds Or Severe Weather Conditions
It's also important to retract your awning during high winds or severe weather conditions. This will help prevent the awning from being damaged by strong winds or blown away altogether.
Conclusion:
As you have learned in this blog post, what is an awning and there are many reasons to consider adding an awning to your home.
Not only do they provide protection from the sun and rain, but they can also save you money on energy costs, add value to your home, and increase outdoor livability. So if you've been thinking about adding an awning, now is the time!