Having a wireless GSM alarm system at home reduces your exposure to burglary.
Hence, investing in one is not a bad idea in today's fast-paced world. Defending your valuable assets requires taking the right step in the right direction, and that is why we prepare this guide so that you won't choose wrongly.
Wireless GSM Alarm System UK (Our Top Picks)
1. Honeywell Home HS331S
Specs
Battery Cell Type: Alkaline
Frequency: 868 MHz
Coverage: 200 metres
Weight: 3 Kilograms
The Honeywell Home HS331S is an alarm system that comes with rich features like the Preventative Prompts and At Home Zoning Mode so that you have peace of mind when you are not at home. The package includes a siren as well as a wireless keypad so that you can monitor your assets without much hassle.
Also, there is the at-home zoning mode, which protects vital entry points when you are at home. It is easy to arm and disarm, with the keypad as well as the contactless tags, and any member of your family can carry out these processes.
2. Honeywell Home HS342S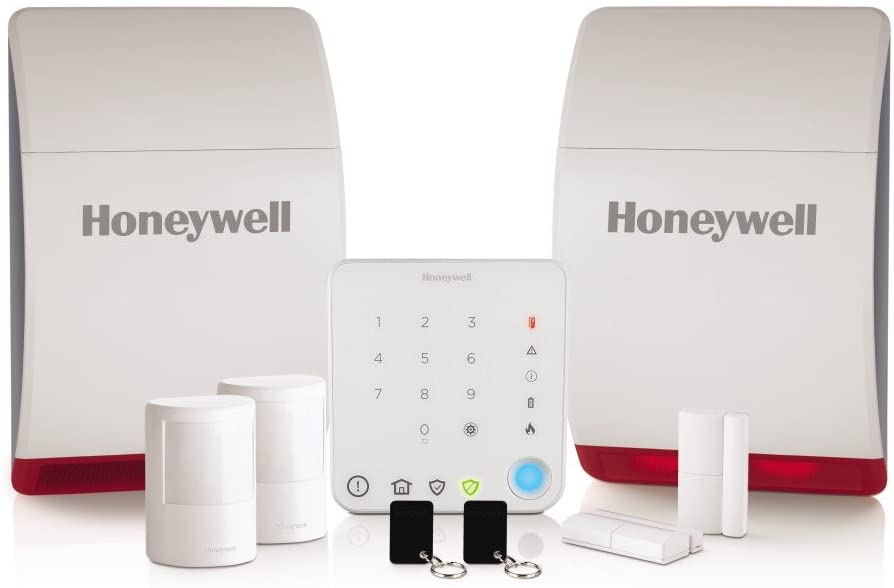 Specs
Battery Cell Type: Alkaline
Frequency: 868 MHz
Coverage: 200 metres
Weight: 4.96 Kilograms
If you want a security device that will not disappoint you when it matters most, you should go for the Honeywell Home HS342S. It features a dummy siren, which scares intruders into your home.
This alarm system has a keypad with features like Home Zoning Mode so that you can protect certain entry points when at home. You will like its contactless tags, which help with convenient arming and disarming of the device. Its maintenance is as easy as ABC with a battery life of up to two years.
3. Alarm System House Wireless DIY GSM Wifi RFID
Specs
Battery Cell Type: Lithium-ion
Material: ABS
Voltage: 220 Volts
Weight: 1.1 Kilograms
This GSM alarm comes with a RIFID card so that every member of your family can arm and disarm it, even children and seniors. It has four remote control functionalities so that you can control it from anywhere.
It works with free Wifi, and you can use your sim card to connect it. When there is an emergency, it puts a call through or sends a message to numbers programmed on it. It supports many defence zones like the door, gate, bedroom, SOS, and so on.
4. KERUI W18 Wireless WIFI+GSM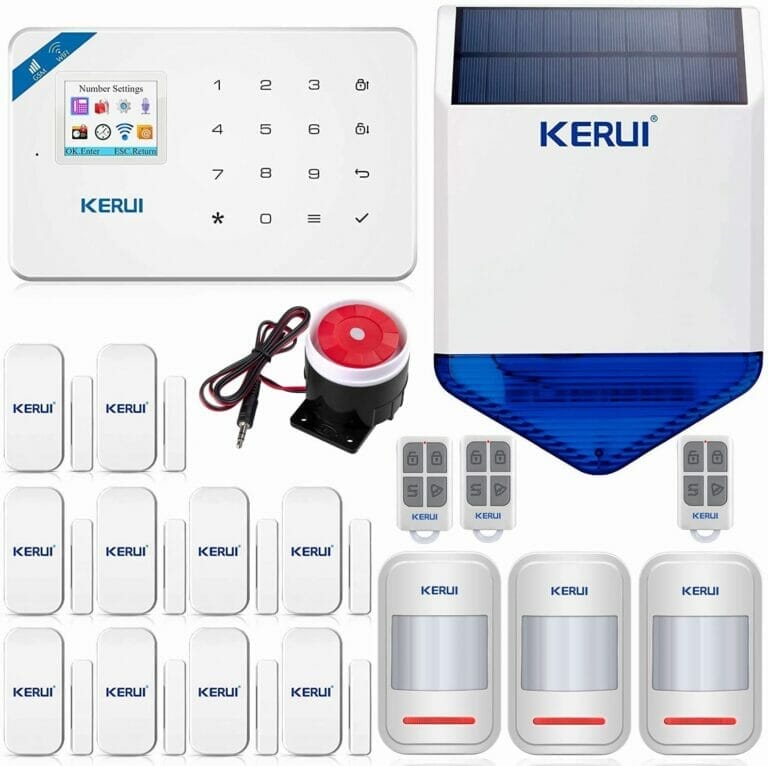 Specs
Battery Cell Type: Lithium-ion
Material: ABS
Power Source: AC/DC
Weight: 2.1 Kilograms
The KERUI W18 is a unique wireless alarm with many defence features so that your mind can be at rest when out of the home. It has 99 wireless zones capacity with 8 types of zones. The W18 panel gets maximum protection from unauthorized removal with its built-in tamper switch.
This device is one of the systems that are very popular in many online reviews on alarms. Its outdoor siren is solar-powered and weatherproof, hence, intruders cannot get away with their acts. The main panel comes with an 8-hour lithium-ion backup battery that you can recharge for uninterrupted operations.
5. JC Wireless GSM & WIFI Security Alarm System
Specs
Backup Battery: 3.7V/500mAh Lithium Battery
Frequency: 433 MHz
GSM Bands:850/900/1800/1900MHz
Screen:4 Inch TFT Digital Screen
This wireless device comes with a programmable alarm host as well as sensors. The host features a 2.4-inch TFT inch screen as well as touch panel so that you can use it with ease. Setting it up for smartphone apps is a piece of cake.
It comes with a 2G network transmission system, and you can also use it with 3G and 4G networks. This device has up to 99 defence zones, and you will like its multi-zone location settings.
6. Vlio Wireless GSM & WIFI Burglar Alarm System
Specs
Backup Battery: 3.7v/500mAh Lithium Battery
Screen: 2.4 Inch TFT
Frequency: 433 MHz
Working Current: <120mA
This device comes with about 99 defence zones including bedroom, SOS, gate, balcony, window and so on. It is easy to arm and disarm, even kids and seniors won't have issues with these.
It supports various alarm channels, such as app push, voice monitoring, SMS, etc., so that there will be stable and reliable performance. There is a timer function for automatic setting of the arm and disarm time.
7. Discoball GSM Home Alarm System
Specs
GSM Module: 850 /900/1800/1900MHz
Alarm Volume: 110 dB
No of Wired Defence Zones: 8
Backup Battery Runtime: 5 hours
This appliance supports about 99 wireless and 7 wired zones. You can time its arming and disarming functions so that you will be able to get the best results.
There is a dialling function that gets in touch with you when there is an emergency at home. You can program up to 6 numbers for phone calls during emergencies and 3 numbers for SMS. It is easy to arm and disarm, especially for kids and senior citizens.
What is a GSM Alarm System & How Does it Works?
A GSM alarm system makes use of the GSM technology to protect your home from burglary. You only need to insert a sim card, and it works via the mobile network when you switch it on.
As soon as the system discovers encroachment, fire or danger, the sensors will trigger the alarm, the system will call or send SMS to pre-stored numbers.
One good thing about the wireless alarm system is that the alarm will not stop until an authorized person stops it.
Also, it is better than the fixed telephone alarm because you can get the status of protection when you are not in your residential city, state or country.
You only need to send an SMS to the SIM card number, and you will get all the required information.
Besides, when a burglar enters your home and cuts off your telephone line, the GSM alarm will not be affected because it does not work with the aid of a fixed phone line.
It is perfect for areas where fixed phone lines are not easily available. Also, it is easy to install and use, even if you don't have knowledge of the security system.
FAQ's
What is a GSM alarm system?
It is a wireless home security device, which gets its connection through a mobile network. It comes with sensors that trigger the alarm when there is an emergency, like burglary or fire.
How do you program a GSM alarm system?
It is easy to program, even if you are not a tech geek. You will find the installation instructions on the manual of the product you purchase.
Is wireless alarm better than wired?
Both wireless and wired surveillance systems have their pros and cons. Wired systems are inexpensive, and more reliable because you don't have to worry about changing batteries. However, when there is a power outage, it stops working.
What is the best wireless alarm system on the market in the UK?
You should check online reviews to discover top products you can put your money on. It is important for you to compare features and price so as to discover a device that will meet your expectations.
Bottom Line
If you want to get the best wireless alarm system, you should digest this guide properly because it will help you to make the right decision. We have included top devices in this review, which have received many positive comments from verified buyers.